celebrant… yoga… retreats… walks… on the NSW South Coast
Hello. I'm Catherine
I'm a civil celebrant, yoga teacher, studio owner, retreat coordinator, walker, ecologist, gardener, mother and grandmother from Broulee Beach on the beautiful South Coast.
You can find out more about me on my About page
What's New
Welcome to my new look website. It's a time to refresh and evolve. A time of new beginnings.
I'm stoked to be offering new Spirit Earth Walks in Autumn 2019 and a new Yoga Earth Retreat at Mystery Bay in September 2019.
Three day walking pilgrimages along the Murramarang National Park coastline, beaches and forests.
A journey of reconnection with the earth, the elements and soul through yoga and nature connection practices. Total yoga-nature immersions to reconnect to wild nature and your own inner nature.
Fully inclusive, supported and guided walks carrying only a day pack and staying in lovely beachfront villas.
Run in collaboration with Region X local ecotourism company.
April 2019 – Sunday 7th – Tuesday 9th
May 2019 – Mothers Day Walk – Sunday 12th – Tuesday 14th
For details and bookings see Spirit Earth Walks on the Region X website
A weekend retreat a world away on the NSW South Coast
Friday 20th – Sunday 22nd September 2019
Escape from the busyness of your daily life and immerse yourself in nature and yoga.
Based near Mystery Bay at a purpose built yoga retreat centre on a secluded coastal property adjoining a lake, beaches and headlands, only 10 minutes south of Narooma.
This is a very special place for a yoga earth connection retreat. The weekend includes:
morning hatha flow yoga
afternoon quiet yin yoga
guided and silent meditations
re-earthing and deep ecology practices
silent walks in nature
earth yoga discussions
free time to explore or just chill
delicious fresh healthy food all weekend
two nights' accommodation – range of price options
Check out the retreat details, accommodation options and booking form here.

CURRENT TIMETABLE – February 2019
MONDAY
TUESDAY
THURSDAY
FRIDAY
8.00 – 9.30am
10.00 – 11.30am
Iyengar Yoga
with Narelle
Iyengar Yoga
with Narelle
Hatha Yoga
with Jade
5.45 – 7.15pm
Yin Yoga
with Jade
Prenatal Yoga
with Jane
Hatha Yoga
with Renata
For all class details go to the Broulee Yoga Shed page
Broulee and beyond….
Looking for a down to earth, experienced, casual but professional celebrant on the NSW South Coast? Let me help you create a ceremony that's just perfect for you as a couple.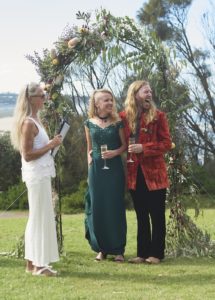 The radiant sun shines passion, energy, vitality and joy into our practices, rituals and ceremonies.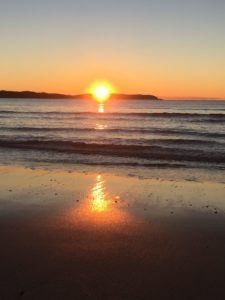 Behold, you've found the good, the gold and orange. You were the first ones to face the sunlight. Bialik