Broulee Yoga Shed is a beautiful studio set in a private garden in the beachside village of Broulee,
between Moruya and Batemans Bay on the NSW South Coast.
We offer regular weekly classes all year, as well as private one-on-one or group sessions. Please contact me if you are interested in private yoga classes.
Everyone welcome, all classes are suitable for beginners.
Please arrive ten minutes early.
We have mats and all gear at the studio – but please bring your own mat if you have one.
CURRENT CLASS TIMETABLE – from June 2019
Its winter, quiet and cold, so we just have a small offering of our regular classes. All welcome. Enjoy.
TUESDAY
THURSDAY
10.00 – 11.30am
Iyengar Yoga
with Narelle
Iyengar Yoga
with Narelle
5.45 – 7.15pm
Prenatal Yoga
with Jane
CLASS PRICES
Casual drop in yoga class $20
Five class yoga pass $80
CLASS DESCRIPTIONS
Hatha Yoga – traditional yoga incorporating physical postures, breath awareness and meditative practices. Hatha yoga combines energy, breath, postures, mantra, movement, flow, focus, flexibility, strength, relaxation, stillness, meditation and well being. Hatha is a general name for the type of yoga now widely taught in Australia which incorporates breath control (pranayama), poses (asana), flowing sequences (vinyasa) and conscious relaxation (savasana). It refers to the yang and the yin of yoga, the masculine and feminine, strength receiving, the sun and moon.
Iyengar Yoga – a form of Hatha with a focus on precision and alignment of the body in poses, and the use of props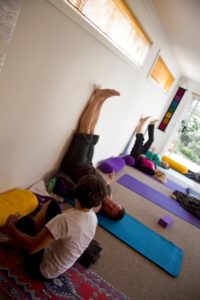 such as blocks, belts, bolsters and blankets.
Prenatal Yoga – For pregnant women. Gentle poses for stretching and strengthening your body. Breathe awareness for relaxation, comfort and confidence. Pregnancy yoga is a way to cultivate focus and awareness, tap into your inner strength, and connect deeply with yourself and your baby.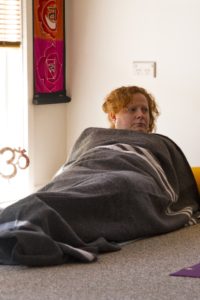 Yin Yoga – a slow, deep practice that involves holding poses in quiet stillness for longish periods. It aims to relax the muscles in order to gently tension and release the connective tissues of the body – the fascia, ligaments, joints and bones. It is an amazing practice that nourishes and lubricates the joints, softens and opens the physical body, and energises and removes blockages in the myofascial meridian network. Yin Yoga is a natural complement to our more active, dynamic, strong and muscular yang-type practices. Come and experience its surprising effects for yourself.
TEACHERS
Narelle Madden – Iyengar Yoga
Narelle has been practising and teaching Iyengar Yoga for 20 years. Iyengar Yoga focuses on awareness of breath and alignment of body, using the assistance of props such as blocks and blankets. For Narelle, simply the practice of yoga, experiencing the postures and breathing, brings one back to the fullness of body-mind consciousness.
Jade Bridger – Hatha and Yin Yoga
Jade is a young woman from Canada. She studied yoga at a Sivananda Ashram in India in 2014, then taught as a volunteer at ashrams in NYC, USA and Montreal. Her Sivananda Hatha class focuses on stretching and toning the entire body. Jade will guide you through a modified traditional class, ensuring a well-rounded practice. You'll get a little bit sweaty with frequent relaxations and emphasis on full yogic breathing. Her classes will bring peace to your mind, while focusing on the health and wellness of your body.
Health is Wealth, Peace of Mind is Happiness, Yoga Shows the Way
Jane Haverfield – Pregnancy Yoga
Join local midwife Jane for prenatal yoga classes. Pregnancy is a time for growth and change on so many levels. Joining in a pregnancy yoga class can make that journey so special and sacred. Come and enjoy some light stretching, breath focused movement and nurturing relaxation. Pregnancy yoga is a way to cultivate focus and awareness, tap into your inner strength, and connect deeply with yourself and your baby. Experience the power, beauty and transformation of pregnancy and birth through yoga.
Please call Jane for more info or to book – 0429 188460
How to find Broulee Yoga Shed? Follow the blue YOGA STUDIO signs.
Second on the left off Candlagan Drive, off Coronation Drive, North Broulee