Catherine Potter – Marriage Celebrant
From Agnes Water to 1770, Bundaberg to Gladstone
I live at Captain Creek near Agnes Water, Queensland, and I am available for local and regional weddings.
I have been a civil marriage celebrant since 2010 and have performed many weddings as well as other ceremonies and celebrations.
It would be my pleasure to be your celebrant and help you create a beautiful ceremony in a beautiful place. My passion is to create ceremonies that are memorable, joyful and fun.
Every ceremony is a unique bespoke one, designed especially for and with you. I work closely with you to:
craft words that are just right for you
include rituals that are relevant for you
create a whole ceremony that is just perfect for you.
My style as a celebrant is casual but professional, relaxed but organised, friendly and down to earth. I offer formal, informal and alternative ceremonies. I specialise in beach, bush, farm and garden weddings, but am happy to perform your ceremony at any special place you choose.
…beautiful ceremonies in beautiful places…
My celebrant services include:
weddings including same-sex marriages
commitment ceremonies
renewal of vows
naming ceremonies
funerals
My wedding service fee includes:
An obligation-free initial meeting – face-to-face or by zoom
Creation of a personalised ceremony
A second meeting – to complete the details
Phone and email communication with you as required in the planning stages
Attendance at and legal solemnisation of your marriage on the wedding day
Travel within 150 km return of my home base. I am happy to travel further for an agreed additional cost.
Use of my professional PA system at the ceremony so everyone can hear the service and your music
A presentation marriage certificate and a printed copy of your wedding ceremony
Preparation and lodgement of legal documents for registration of your marriage
Please Note: My fee does not include obtaining your official marriage certificate. Couples can apply online to the Registry of Births, Deaths and Marriages for their official certificate, once it has been registered, a few weeks after the ceremony.
My duty as a celebrant
As a Registered Civil Marriage Celebrant, I am committed to our profession's Code of Practice which includes:
providing a high standard of service
recognising the social, cultural and legal significance of marriage
guiding you to create a marriage ceremony that meets your needs and expectations
respecting your privacy and confidentiality
being on time for your ceremony
ensuring your documents and marriage ceremony are legally accurate.
See the full Code of Practice for marriage celebrants.
Legal requirements for marrying
There are legal requirements for marrying in Australia under the Marriage Act. I will explain these to you at our first meeting and guide you through them.
A Notice of Intended Marriage form must be completed, signed by both parties, and lodged with your celebrant at least one calendar month, but not more than 18 months, prior to your marriage. This form is usually completed at our first meeting.
To get married in Australia you have to provide the following documents:
Birth certificates or passports for both parties
Evidence of any change of name, if your current name is not the same as shown on your birth certificate
Photo ID for confirmation of identity eg driver's licence
Divorce papers if any previous marriages have ended in divorce
Previous spouse's death certificate if they have passed away
A signed declaration stating that there is no legal impediment to your marriage
On your wedding day, two witnesses both aged 18 years or over are required to witness your legal documents.
For more information about the legal requirements for marrying in Australia and to download the Notice of Intended Marriage form, see the Attorney-General's Department website
Celebrant Testimonials
We couldn't have had a more perfect celebrant for us. Catherine is so lovely and respectful. She brought out the best in everything we decided to do with our ceremony, inspired our creativity to flow to make it unique to us, and made us feel relaxed and calm along the way. When she read out our love story, she really captured everything we had written which was so special. She guided our beautiful ring ceremony for us which was so lovely. She made a beautiful acknowledgement to the Aboriginal people and ancestral spirits of the land past and present, asking them to welcome us and to bless our ceremony. She greeted and honoured the elements fire, water, air and earth, uniting them with our special bond. She made our ceremony so magical and special to us. She was so professional and so personable and confident with our guests, and she co-ordinated our 16 strong bridal party with ease and such calmness. Thank you so much Catherine Potter for making our ceremony truly blossom. Xadi and Andy 🙂
Dear Catherine We want to thank you for your pivotal role in what was a beautiful ceremony at South Durras. From the moment we met you we knew that you were the right person to marry us. You really put us at ease with your calm and professional approach leading up to the big day. And then on the day itself you delivered our ceremony with the perfect combination of sincerity, warmth and respect … plus just the right amount of humour! Our guests all commented on what an absolutely beautiful ceremony we had, so thank you for being an integral part of our special day. We truly feel blessed to have had you as our celebrant. With love, Chris and Megan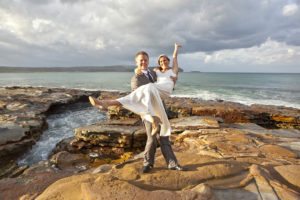 Catherine was recommended by a friend of ours, and we will never be able to pay that friend back! From our first meeting Catherine was warm, friendly and professional. Taking the time to get to know us and what we wanted from our celebration. She asked the right questions at the right times and guided us through the process, reducing stress and making the whole thing more fun for us. On the day, she was understanding and adaptable as our plans had to change at the last minute (thanks mother nature…). She delivered a ceremony that we both enjoyed and will remember for the rest of our lives. Thank you Catherine for all you help, we couldn't have asked for a more perfect celebrant for us. Sean and Debbie
Catherine was wonderful during the entire process of designing and preparing for our beautiful wedding ceremony. Catherine understood our spiritual beliefs and incorporated our every wish into an incredible, personal and intimate ceremony. To this day our friends and family reflect on the moving words that Catherine wrote for our special day with warm memories. There was not a dry eye in the house! We will never forget our beautiful day! Much love, Maddie and Troy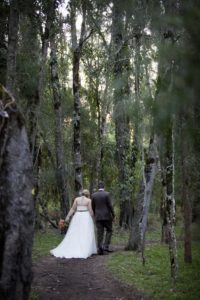 From our first meeting with Catherine, we knew she was the perfect celebrant for us. She was so friendly and open and we knew we wanted someone like that involved in our special day. Catherine helped us to construct a unique and creative ceremony that reflected our personalities. She was thoughtful and professional, but above all she is lovely person. Don and Amanda
Thank you for helping to make our wedding day an absolutely joyful experience. The setting and the ceremony followed by a delectable feast with family were unforgettable. All our love Ala and Bart
From the moment we contacted Catherine she tuned into our energy and gave us the confidence that we could create our ceremony congruent with what was important to us. She was very responsive to our needs and helped to organise all the official paperwork for our wedding in a short timeframe. She took our story and ideas for vows and turned them into a beautiful ceremony incorporating all the elements that were sacred to us. She facilitated the day gracefully – providing direction when needed and stepping back to allow the natural rhythm of the day to unfold. We are very grateful for her wonderful celebrant service and would highly recommend engaging with Catherine to help you celebrate your wedding day in a special way. C and E
Catherine is a beautiful and highly professional marriage celebrant. She was always open to ideas and made us feel that we could make the day completely ours. We already have two children and it was very important to us that they be incorporated in the day. Catherine had some wonderful ideas on how to make this just as special for them as it was for us. We would highly recommend her to anybody especially those wanting to add a personal touch to their wedding. Kate and Josh
We feel so fortunate to have had Catherine marry us. Totally professional, utterly charming and helpful, she even came colour matched to our outfits on the day! We organised our wedding very quickly and at Christmas time which was all a bit stressful. But Catherine helped and guided us with our vows and gave us timely suggestions that made it turn out to be a very calm, happy day (even with a strong headwind blowing and a missing best man!). Everyone at the wedding remarked on what a lovely, personal ceremony it was and we can't recommend her highly enough. She was an integral part of what was one of the happiest days of our life. Jen and Wayne
Dear Catherine, We want to thank you very sincerely for orchestrating our wedding. The authenticity of the ceremony you organised made it a truly inspiring and emotional moment. Your professional and patient approach from the organising to the ceremony itself helped us feel fully relaxed and open to the moment on the day. We loved both the wording and the ritual that were true to our values and the site we had chosen. It made the whole ceremony feel very unique and personal which brought to our small event unexpected solemnity and serenity. We keep from this moment an impression of unity and togetherness. It made us feel enriched and confident in our union for the future. We want to thank you more personally for your kindness and your generosity: your little attentions mean a lot to us. We also want to thank Wayne and Stella for their gentle and respectful witnessing. On this day, the three of you were great company and real friends to us. Kindest regards, Tobi and Marie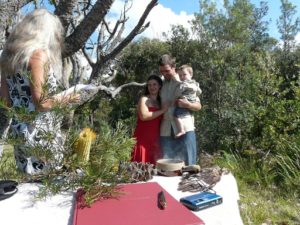 We were after a ceremony that was unique, warm and fun – Catherine brought the perfect balance of creative energy and professionalism to bring it together. Catherine is a beautiful writer who was able to craft our ideas into a well composed and presented ceremony. Importantly she is timely and well organised, removing the stress that can come with an unreliable celebrant. A year later and our friends and family are still able to recall little details we built into our ceremony, an indication of how much they felt a part of our ceremony. We can't thank Catherine enough, her warmth and joyous presence were an important part of creating such a perfect day. Leonie and Andrew
Being married…life's really better now…there's a new vibration and we're both really happy. Everybody liked the ceremony so much and we want to thank you again for making it so wonderful! Isa and Diego (Italian Buddhist beach ceremony in Australia!)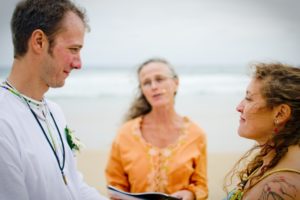 When we met Catherine, our conversation just flowed. She understood what we wanted to do and we knew we had found the celebrant for us. She guided us all the way through the planning process and helped us to create our tailor made, Australian/Brazilian ceremony. Our long discussions with Catherine also really helped us truly understand why we had decided to get married in the first place. On the big day, we were well prepared and comfortable with the knowledge that Catherine had it all under control! It was perfect. Thanks for being an important part of our special day! Cheers, Juliana and Adrian
Choosing a celebrant for your special day can be quite stressful, however as soon as we made contact with Catherine, we knew that she was the perfect person for this very important job. Catherine was extremely attentive, and more than happy to take on board everything that was important to us. She knew all the right questions to ask, which ensured that our ceremony truly reflected us as individuals, and as a couple. This was clearly evident in the comments that we received from each and every one of our guests on the day. They were so surprised at how much our ceremony reflected us and our relationship. Thank you so much for making what we feel is the most important part of a wedding day so very very special. Skye and Wayne
Thank you Catherine, you made our wedding ceremony special and what we wanted. While we could only meet you once in person (due to the distance) before our wedding, you understood our needs. Your knowledge of so many different rituals, really helped us create the perfect ceremony to suit our personalities. We decided to go with hand fasting, using our fathers' ties to join our families together (they loved taking the ties off too). You also knew how to help us include our "much adored" dog Dexter. We couldn't be happier with the ceremony to start our married life together. Thanks. Nathan and Krystal
Thank you from our angelic hearts. Ben and Renee

Catherine provided us with all the help we needed to have a wonderful wedding. She quickly understood our priorities and the kind of ceremony we were interested in, and guided us through the process. The ceremony itself was beautifully organised and reflected us perfectly. Catherine was sincere, warm and friendly and many of our guests remarked on what a good ceremony it was. Thanks! Fiona and Toby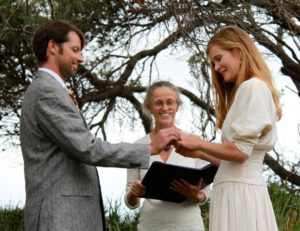 Thank you again for helping to make our ceremony so intimate and personal. It was everything that we'd hoped for and more….. You made the process so much less stressful, just by being you! Rachel and Dan
As celebrants go you have to be one of the best. You arranged, how we do not know, for a pair of sea eagles to arrive overhead at the perfect moment. You arranged for the winter weather to be perfect. And for rainbows. Of course, none of that you can put in a testimonial (though if you are confident of your alliance with nature you may!!). We were a non-trivial wedding in that – at our advanced age – we knew exactly what we wanted, there were no mothers to get in the way and it was entirely our day. In addition, as a surprise wedding we had to disguise it as a 60th birthday. Your contribution to all of that was critical. We were so delighted with the words you wrote for the ceremony. We did not have to change a single word. We share back with you some of the words you spoke for our ceremony which were very appropriate for the place, the time and of course the surprise event at hand: "May your union be forever warmed and glowing with love from your hearts, always expansive and open to the creation energy. May your lives together embrace both the untiring energy of the ocean and the quiet stillness of the mountain spring. May your connection be carried by the wilful wind, staying wild and inspiring, strong and enduring, held gently in your hearts." The audience loved it and so did we. You conducted the proceedings with grace and good humour. For all that we thank you. Love Georgie and Trevor
Pip and Luke
Radiant Sun Celebrant Gallery