PILGRIMAGES TO NATURE AND SOUL
Immerse your self in nature and yoga.
Yoga Earth Retreats combine active and contemplative yoga and meditation with re-earthing and silence practices to facilitate reconnection to nature and soul.
Open your self to the quiet deep awareness of the natural world. Rekindle your spirit in the wild elements.
NEW RETREATS AT A FOREST LOCATION NEAR AGNES WATER WILL BE SCHEDULED SOON …

YOGA EARTH IMMERSIONS

Reconnect amongst unspoiled forests, beaches and ocean on a yoga nature immersion.
Escape from the busyness of your daily commitments and immerse yourself in nature and yoga.
My retreats include a variety of practices to facilitate spirit earth immersion:
morning sunrise hatha flow yoga
afternoon quiet still restorative and yin yoga
guided and silent meditations
nature-spirit connection rituals
re-earthing and deep ecology practices
silent walking and sits in nature
barefoot practices
earth yoga philosophy discussions
free form flow and creative movement
poetry and song
free time to explore or just chill
comfortable quality earthy accommodations
delicious fresh healthy whole food all weekend
NATURE AND SOUL

Yoga Earth Retreats take you on a journey of deep reconnection with nature, the elements and soul through yoga and nature-spirit connection practices in the bush and at the beach. These guided physical and spiritual journeys are a chance to get back in touch with your inner self and wild nature. Ground with the earth, flow with the tides, breath with the breeze, salute to the sun, soar with the sea eagles, open to the spaciousness.
Yoga is a dance, a play, between body and nature, breath and spirit, earth and sky, purusha and prakriti. Practising yoga in nature takes us deeper into connection with the wild elements of earth, water, sky, air, sun and ether. We connect our energetic self to the elements and cosmos through connection with prana or chi, the universal life force vital energy.
Deep ecology is a philosophy of nature that emphasises our connection to and interdependence with the earth, that we are part of the earth and not separate from it, that we are one with and of the earth, made of the very stuff as the trees, the rivers and the whole cosmos. This view aligns with the yogic philosophy that we are one with and interconnected with all creation and the divine universe.
Through sitting, standing and walking barefoot we improve energetic connection with the earth energies. Through silence, stillness, listening, sensory depth, meditations, movement and ritual we connect to nature, our inner souls and the sacred.
The physical, mental, emotional and spiritual healing powers and wellness benefits of connection with nature are boundless. Come experience them for yourself.
FRESH WHOLEFOODS

Nourish your body as well as your soul. Healthy gourmet wholefood meals focusing on use of fresh local produce are provided throughout the retreat – breakfast, lunch and dinner. Teas and coffee available at any time. We cater for all diets including vegan and gluten free.
Past participants have rated the delicious food as one of the highlights of the retreats. Along with sunrise yoga, of course!
Interested in nature-soul connections?


Retreats Testimonials
what people are saying about my retreats
The yoga retreat I enjoyed at Radiant Sun Yoga was a remarkable journey. Catherine takes the yoga experience well beyond the confines of the yoga mat to encompass the beach, the forest, the energy flows in nature, poetry and visualisation. There was also fine food, great hospitality and new friendships. I left there with an altered and more expansive appreciation of yoga and its power to transform.

The retreat opened my heart and my connection to myself, through deepening my connection to my practice, the natural environment and the yoga community. The highlights were practising yoga in nature, including while watching the sunrise, broadening my understanding of yoga philosophy, learning about a variety of different practices, and meeting new and wonderful people. Oh, and the food is not only nutritious but the best I've ever had on a retreat!
I just wanted to thank you so much for such an amazing weekend. When I returned back to "normality" I felt as though I'd had a really lengthy holiday, feeling so refreshed, energised, centred and serene (which is a word that I don't normally associate with myself!). Every part of the retreat more than satisfied what I just love to do! It was like every moment I was receiving the most amazing gift e.g. going not just on a bushwalk which is what I do all the time, but a silent bushwalk where I noticed so much! Not to mention watching the sun rise, kayaking (can you believe I had never done that before) and looking at the moon in a completely different "light" J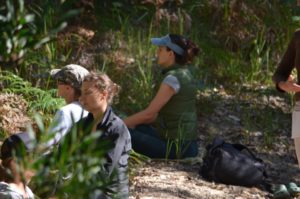 One of the things I really noticed on the weekend was how easy it was to feel completely connected to nature. I am sure that was helped by your beautiful, earthy and natural place with its gorgeous birdlife that I could have watched and listened to all weekend. Being surrounded by the ocean was an amazing bonus not to mention the weather which I am sure you didn't have anything to do with J The yoga, readings and delicious meals were all fantastic too. Could you please thank your daughter for preparing such wholesome and nutritious food. And another big thank you to you too Catherine for making it so special and such a memorable time.
The retreat was amazing, energising, uplifting and nourishing.
This retreat was such a wonderful way to relax, recharge and delve deeper into the practice of yoga. Our morning sunrise was so beautiful – particularly watching the whales. Catherine is so nurturing, dedicated, warm hearted and humorous – it was a great pleasure to work with her, and I hope to drop into the yoga shed for practice with her again.
I had a really wonderful time at the Radiant Sun Yoga retreat. I feel that the retreat opened my heart and my connection to myself, through deepening my connection to my practice, the natural environment and the yoga community. The highlights of the weekend were practicing yoga in the natural environment, including while watching the sunrise, broadening my understanding of yoga philosophy, learning about a variety of different practices and meeting new and wonderful people. The weekend was a deeply healing experience and I highly recommend the retreat to anyone, whether you are just discovering yoga or have been practicing for a long time.


The retreat expanded my own practice by doing things outside my usual practice. I really enjoyed the restorative yoga – it was a great reminder to bring more balance by bringing the feminine energy to my mostly masculine practice. My main take-home was to remember that lying on a bolster can be just as powerful and beneficial as doing five rounds of sun salutations. I have bought a bolster, and am now incorporating a restorative practice at home once a week.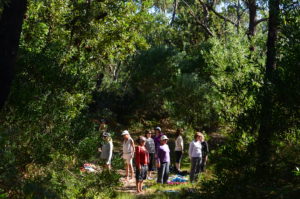 It was so good being able to add a more information to my yoga journey. I loved the walk and grounding practices – and I have been continuing with that mindfulness. I really appreciated having some one on one time with you to talk about my personal practice.
I was inspired by the amazing food and have been trying to bring some of those changes into my own diet.
Radiant Sun Yoga Earth Retreat at beautiful Broulee on the NSW south coast. A few days spent connecting with yourself, the earth and elements and nature. Energising yoga sessions in a tranquil yoga studio and outdoors. Silent bush and ocean walks re earthing with nature. Insightful teachings and guidance from Catherine Potter. Fabulous wholesome food prepared with love and energy. Time spent with wonderful people enjoying life at its best.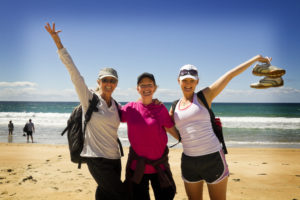 The Radiant Sun Yoga Retreat run by Catherine Potter was an overall positive experience, well organised and catering to the differing needs of the group. Well-balanced activities and free time, good accommodation and excellent fresh vegetarian food. Good company and good fun.
The Radiant Sun retreat was an unexpected delight in many ways. The yoga experience for a beginner was outstanding and it was enhanced by the community living and free time in a beautiful setting.
Thank you for an absolutely lovely weekend – it was an experience to treasure and reflect on for some time to come. And great to get in so much yoga in one weekend. I am still marvelling over the steam coming off the sea on that Sunday morning! And the moon that evening when we were driving home! A lot to savour.
The emphasis on spirituality. It's exactly where I'm at (right now) in my yoga journey (like it could be any other way?). I love cosmic synchronicity – it really fries my noodle!
…melodies of nature … the rhythm of…. bush talk… landspeak…
YOU MADE A DIFFERENCE…
My experience as a yogini, ecologist, conservationist, deep ecologist, activist, facilitator, celebrant, rites of passage guide, mother, grandmother, writer, walker and wanderer means that my retreats are unique journeys.